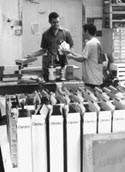 Reid Diamond
Altered Flakes
February 8 to March 4 '00
Reid Diamond is a visual artist and musician residing in Toronto. His past art shows include Place and Show Projects, as well as a solo shows at Neutral Ground in Regina, and YYZ, Tableau Vivant and The Phoebe Street Project in Toronto. A past member of the musical group Shadowy Men On A Shadowy Planet, he is a current member of the musical/film performance group Danny And Reid's Motion Machine.
The artist will use existing cereal boxes with a portion of the back panel claimed for the printing of his own narratives and images. These narratives would relate to the name of the cereal, the location of its production and its contents. There will be twelve brands (boxes) altered, in editions of 12, equalling 144 works in total. These would be diplayed en masse as per a supermarket format. Project title: Altered Flakes
You Can't Judge a Box by its Cover, by Jenifer Papararo

Many images come to mind of family members, roommates or myself, slouching at a kitchen table, holding a half-dipped spoon, chewing a mouth full of something crunchy, and reading a cereal box. Early mornings where a handful of minutes in an otherwise rushed time are used to gain knowledge of how to win plastic prizes, which celebrities eat the same cereal as you, and how to change your favorite cereal into your favorite dessert.

In a subtle act of culinary terrorism, Reid Diamond uses his Altered Flakes to get into your kitchen. He occupies the side and back panels of 130 boxes of nine different brands of cereal. Diamond neatly covers costly marketing designs and strategies with various silk-screened narratives that end with one line morals (that often read as one-liners). His intervention and witty stories, like "The Wake" on the Shredded Wheat box, implicitly critique the almost monopolistic power of corporate giants like Post or Kellogg. However, his primarily objective is to infiltrate a space that obsessively gets read, and to tap into the potential of an everyday moment.

Like Aesop's fables, Diamond presents moralistic tales that embrace a wry street humour and are rooted in common interactions. Many of Diamond's stories read like parodies of the day to day, but they are more than that. They both parody and celebrate these seemingly insignificant moments by extending mundane activities into allegorical narratives and finding moral value within our routines. Diamond replaces semi-meaningful words like calcium panthothenate or thiamine monomitrate with words to live by.

moral: you are what you read.