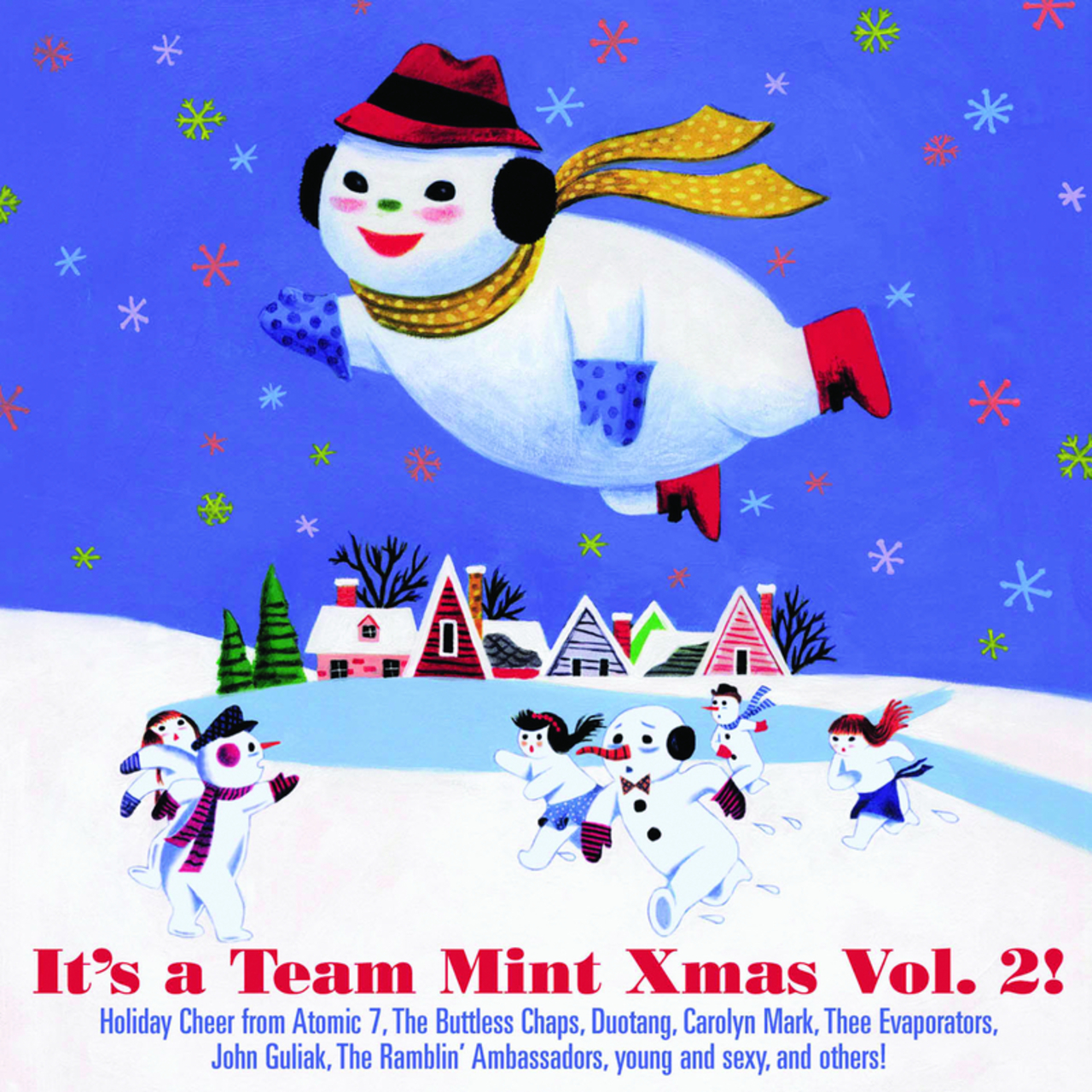 It's A Team Mint Xmas, Vol. 2!
Released November 2, 2004 on Mint Records (MRD-080)
JOHN GULIAK: "Daddy's Drinking Up Our Christmas"

(Tichy/Frayne)

ATOMIC 7: "

Señor Santa él Es El Monstruo

"

(Andriosso/Bird/Connelly)

DAVID CARSWELL AND MEGAN BARNES: "I Wanna Kiss You This Christmas"

(Carswell/Barnes)

CAROLYN MARK: "Song For The Girl With Two Of Everything"

(Mark)

YOUNG AND SEXY: "Santa Claus Likes Rich Kids Better"

(Pittman/young and sexy)

THE BUTTLESS CHAPS: "The Blizzard"

(Harlan)

THE RAMBLIN' AMBASSADORS: "Don't Fear The Reindeer"

(traditional)

THE TENNESSEE TWIN: "X-mas Is Past"

(Wolfe)

THE SMUGGLERS: "Lonely Christmas"

(Childers/Sloppy/Thompson/Jam)

THEE SNOWGLOBE-LINS: "Christmas Song"

(Thee Snowglobe-lins)

THE EVAPORATORS: "Who Are You?"

(The Evaporators)

DUOTANG: "Old Man Davie's Christmas Kingdom"

(Duotang)

CAROLYN MARK: "The Christmas Song"

(Mark)

MINT-AID: "Do They Know It's Christmas?"

(Geldof/Ure)
NOTES:
This CD also has a Quicktime video of "Do They Know It's Christmas"
$3 from each CD sold will go to the Stephen Lewis Foundation, which raises money for the fight against HIV/AIDS in Africa.
"Don't Fear The Reindeer" isn't a Christmasized version of the Blue Öyster Cult standard, it's a version of "Deck The Halls".
"

Señor Santa él Es El Monstruo

" is Spanish for "Mr. Santa, He Is The Monster".