Barely Pink
Black Vinyl
Released on the Vernal Equinox, March 20, 1997 [limited edition of 300]
Glop GLOP001
SIDE ONE:
SIDE TWO:
The single comes wrapped in black crepe paper with the little sticker holding it closed.
---
Barely Pink
Lrg-nss10 (Galerie Largeness Installment No. Ten)
Released July 21, 1997 [limited edition of 50 copies]
Galerie World Of Art ISSN 1206-0097 [cassette only]
SIDE ONE:
"Sound Where There Has Been Silence"
"Pontiac Teddy Stud"
SIDE TWO:
"The Ancient Sound Of Parkdale"
"Open Fire"
NOTES:
From the liner notes:

Galerie Largeness is an artproject in the form of a publication. Each installment of Galerie Largeness is a presentation by artists who produce work especially for publication at the Galerie. This issue presents works by Barely Pink.
---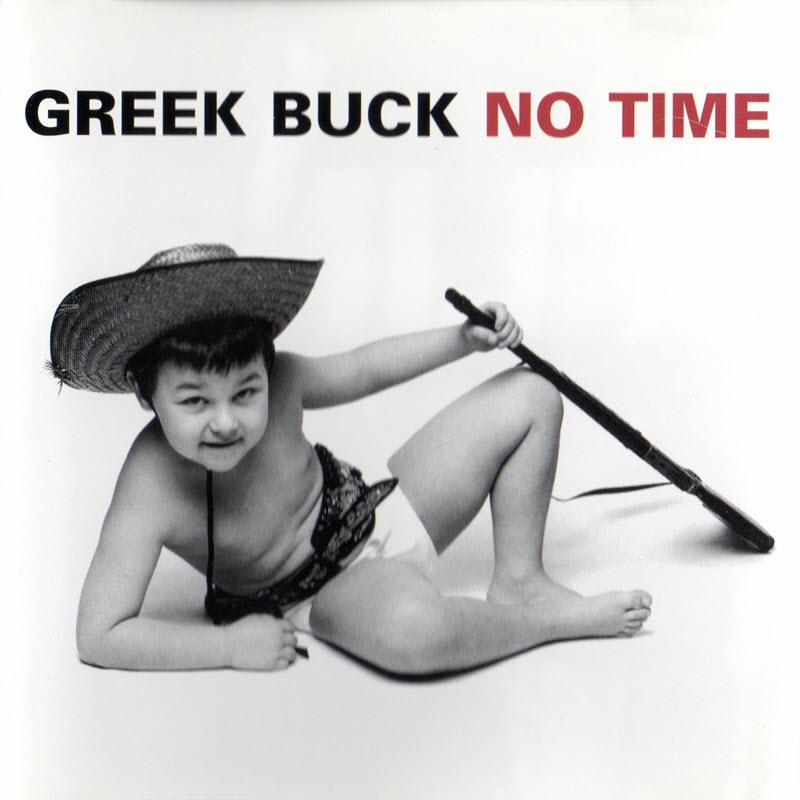 Greek Buck
No Time
Released April 30, 2002
Valmouth Audio VAL006 [CD]
Produced by Greek Buck, "No Time To Be 7 Revolution Mix" produced by Sandro Perri
"No Time To Be 7"

(Brigmantas/Pyle/Zealley)

"No Time To Be 7 Revolution Mix"

(Brigmantas/Perri/Pyle/Zealley)

"Spunk"

[3rd version]

"Sweet Tooth"

(Blurton/Pyle/Zealley)

"Modified Body vs Brain"

(Blurton)
NOTES:
vocals on "No Time To Be 7" and "No Time To Be 7 Revolution Mix" by Tyler Brigmantas
electric guitar on "No Time To Be 7" by Dallas Good
slide guitar and electric bass on "No Time To Be 7 Revolution Mix" by Sandro Perri
electric guitar on "Sweet Tooth" by Ian Blurton
original version of "Body vs Brain" on

Adventures In The Kingdom Of Blurtonia

by Blurtonia