Note from the Shadowy Webmaster:
This page documents the Shadowy Men promotional videos. If you want more video to watch, head over to the Videos On The Web page.
Promotional Videos
The Shadowy Men shot five promotional videos, as follows:
"Shadowy Countdown":
"Musical Interlude":
"Rover & Rusty":
"They Don't Call Them Chihuahuas Anymore":
"Memories Of Gay Paree":
Additionally, there's an official box set teaser video for Oh, I Guess We Were A Fucking Surf Band After All…:
All six of these videos (and other cool stuff) are on the official Shadowy Men channel on YouTube.
---
Commerical Tapes With Shadowy Men Videos
Shadowy Men tracks are bolded.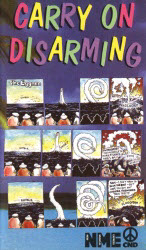 Carry On Disarming
Released in 1991
NME DISARM-1 [PAL VHS]
intro by FRANK SIDEBOTTOM
SANDIE SHAW: "Nothing Less Than Brilliant"

(Andrews/Shaw)

THE LA'S: "There She Goes"

(Mavers)

BRADFORD: "In Liverpool"

(Vega)

THROWING MUSES: "Dizzy"

(Hersh)

KITCHENS OF DISTINCTION: "The Third Time We Open The Capsule"

(Kitchens Of Distinction)

MY BLOODY VALENTINE: "You Made Me Realise"

(Shields)

PUSSY GALORE: "Dick Johnson"

(Spencer/Pussy Galore)

DR. AND THE CRIPPENS: "Zombies In Disneyland"

(Palmer/Elliot/Myall/Ellesmere)

THUG: "Thug"

(Thug)

SWANS: "Saved"

(Gira)

A.R. KANE: "Green Hazed Daze"

(Kane)

A.C. MARIAS: "Just Talk"

(Conway)

14 ICED BEARS: "Mother Sleep"

(Sekula/Canham/Taylor/Durrant)

THE SUNDAYS: "Can't Be Sure"

(Gavurin/Wheeler)

THE MEKONS: "Ghosts Of American Astronauts"

(The Mekons)

WORLD DOMINATION ENTERPRISES: "Company News"

(Dobson/Jameson/Matters)

THE WOLFGANG PRESS: "Kansas"

(Allen/Cox/Gray)

THE THREE JOHNS: "Never And Always"

(The Three Johns)

THAT PETROL EMOTION: "Genius Move"

(McLaughlin)

PRIMAL SCREAM: "Ivy Ivy Ivy"

(Innes/Gillespie/Young)

THE SUGARCUBES: "Motorcrash"

(The Sugarcubes)

THE BAND OF HOLY JOY: "Tactless"

(Jenkins/Brown/Holy Joy)

THE PARACHUTE MEN: "Leeds Station"

(Fiona/The Parachute Men)

INSPIRAL CARPETS: "Joe"

(Inspiral Carpets)

JAMES: "Sit Down"

(Booth/Glennie/Gott/Whelan)

MORRISSEY: "Interesting Drug"

(Morrissey/Street)

THE CAROUSEL: "Strawberry Fayre"

(Price/Webber)

NAPALM DEATH: "Dead"

(Napalm Death)

NAPALM DEATH: "Common Enemy"

(Napalm Death)

NAPALM DEATH: "Obstinate Direction"

(Napalm Death)

THE BACHELOR PAD: "Country Pancake"

(Cherry/Cotter)

SPACEMEN 3: "Revolution"

(Kember)

THE WEDDING PRESENT: "Kennedy"

(Gedge)

THE JESUS AND MARY CHAIN: "Sidewalking"

(Reid/Reid)

THE TELESCOPES: "7th # Disaster"

(Laurie)

THE HOUSE OF LOVE: "Never"

(Chadwick)

SHADOWY MEN ON A SHADOWY PLANET: "Musical Interlude"

(Connelly/Diamond/Pyle)

SHADOWY MEN ON A SHADOWY PLANET: "Shadowy Countdown"

(Connelly/Diamond/Pyle)

ZEKE MANYIKA: "Bible Belt"

(Manyika)

THE POGUES: "Fiesta"

(MacGowan/Finer)

BIG AUDIO DYNAMITE: "Just Play Music"

(Jones/Letts/Roberts)

NEW ORDER: "Round And Round"

(Albrecht/Gilbert/Hook/Morris)

KIRSTY MacCOLL: "Free World"

(MacColl)

outro by FRANK SIDEBOTTOM