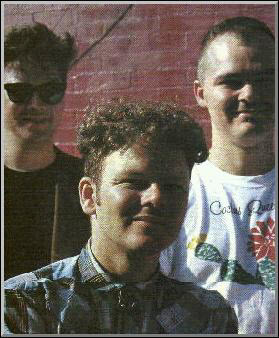 After Crash Kills Five broke up, and after Reid's brief tenure with Good Guys, Reid and former Good Guys' singer Ken Priestley hooked back up. According to Ken:
A few years later Reid and I started playing again and were eventually joined by Brian on guitar and Don thought he'd like to try the drums. After a few practices I left and they continued on without a singer and called themselves Shadowy Men On A Shadowy Planet.
From left to right in the picture …
Brian Connelly - guitar, keyboards, backing vocals
Reid Diamond - bass, lead vocals
Don Pyle - drums, backing vocals
After Shadowy Men broke up, Reid and Don worked in Phono-Comb and Brian went on to form Heatseekers.
In 2012, Shadowy Men were asked to play a couple of shows to promote the reissue of Savvy Show Stoppers. They drafted in Dallas Good from The Sadies (and Phono-Comb) to fill in on bass and for shows and the recording of new music for the revival of The Kids In The Hall until Dallas' passing in 2022. See the 2012 … and beyond page for more info.
Brian Connelly - guitar, keyboards, backing vocals
Dallas Good - bass, lead vocals
Don Pyle - drums, backing vocals