Catalogs
The Shadowy Men used to send out little photocopied catalogs if you wrote them for information. The cool part is the catalogs were hand drawn by Brian Connelly. Neat little pictures, and funny text. Just click on the cover image for a blowup of both sides of that particular catalog.
T-Shirts
There are five different t-shirt designs shown in the catalogs above. I've got two of 'em, the "Pretty As A Postcard" shirt with a drawing of the Savvy Show Stoppers cover on the front and the "Big Ham" shirt with … oh come on … you know! The front and back of each are shown below (front first, then back). The caption on the front of the "Pretty As A Postcard" t-shirt reads "Shadowy Men On A Shadowy Planet - Putting the "strum" back in instrumental!" Oh, and the "Big Ham" shirt is actually white, not grey. The picture came out a little dark. I also got a scan of the "Sport Fishin'" shirt, but just the front.
In addition to those, I also found a shirt from the "New Shirts & Records Tour '91". There's no design on the back of that one.
Click on the pictures to see larger versions of the designs.
Jim Sorenson passed on this 1993 tour t-shirt.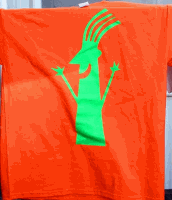 Forest Juziuk passed on pictures of the "Tools Of Our Trade" t-shirt from the catalog, and Shawn Nagy sent on some closeup shots of the same style of shirt.
Found this Jad Fair & Phono-Comb t-shirt on eBay.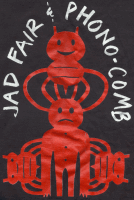 Alex Koch passed on this Phono-Comb t-shirt from a 1996 show. Thanks Alex!
Dallas Diamond passed on this Motion Machine t-shirt. Thanks Dallas!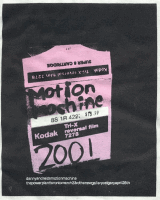 Shadowy Writing By The Shadowy Men On Some Shadowy Men On A Shadowy Planet Stuff
Don Vigeant got Brian Connelly to autograph each of his CD sleeves. Brian had some fun with it, and the results are pretty cool (as was Brian). Click on 'em to see 'em bigger.
Shawn Nagy from Duluth got some stuff signed after a show in Winnipeg. And he had the same impressions of the band that Don V. did … really nice guys all 'round. Oh, and click on these to see 'em bigger too.
Jay Kloosterman passed on this autographed Savvy Show Stoppers insert. I don't need to tell you to click on it, do I?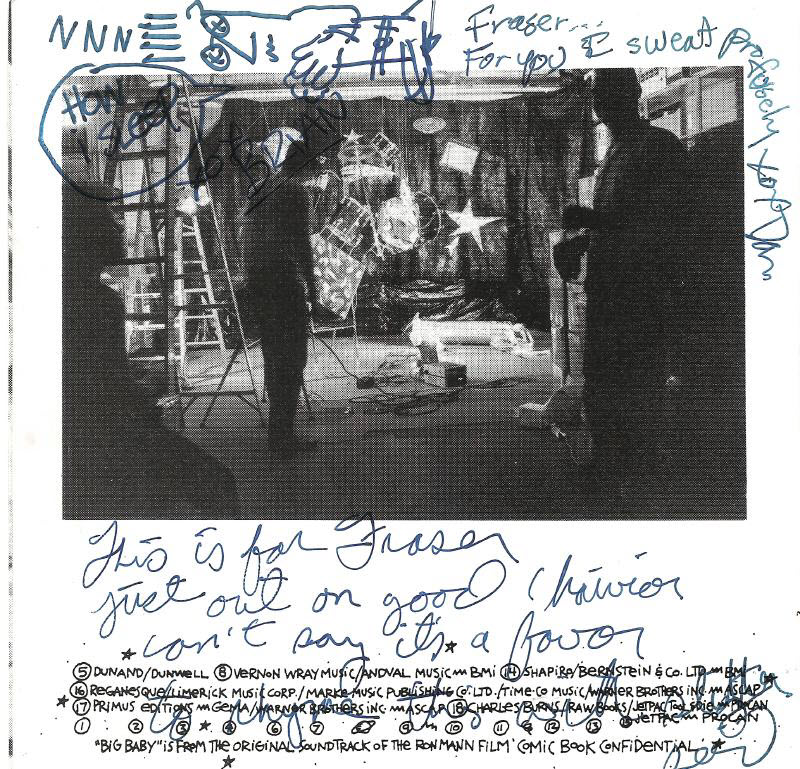 Picked up this one on eBay. The autographs are a little faint, but I think they say "Rock hard, ride free, xx Don", "Hey Chris, thanks for showing us the way to San Jose, Reid", and something that looks like "Gray go way, Brian". Obviously, I'm not real sure about that last one. If you can make it out better, please drop me a note. Thanks.
Another eBay find, with a clearer autograph this time.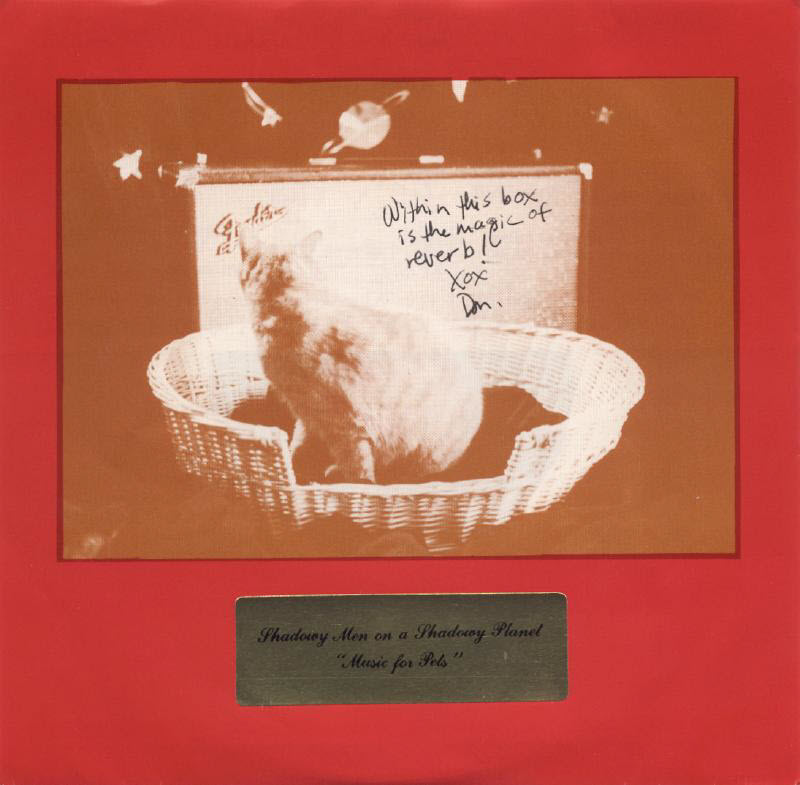 A kind donation from Forest Juziuk - an autographed copy of the napkin from the Just Marred wedding.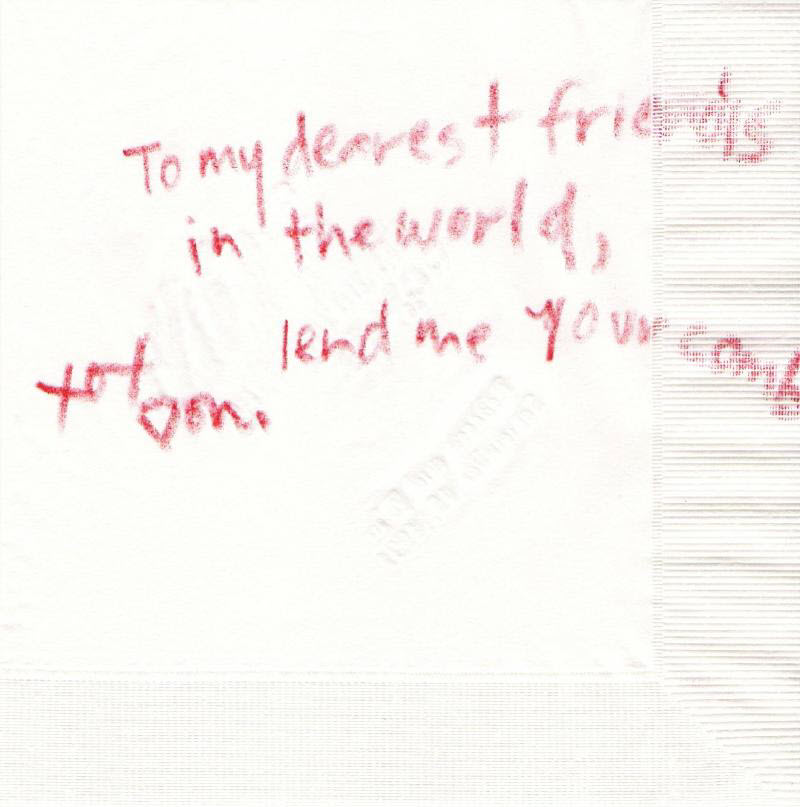 A kind donation from erin leah pryde (check out her pictures of Atomic 7 and Ancient Chinese Secret as well). Oh, and Brian's comment about her legs being broken is a joke. Relax.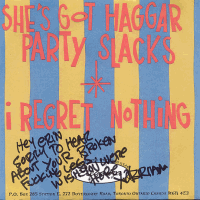 John Gannon sent on the autographed postcard that S Men included with his purchase from bigcartel. Thanks John!
Ryan Preble passed on is scan of the label Reid Does Neil. No, it's not actually autographed, but the note on the label is pretty funny. Thanks Ryan!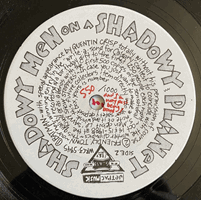 Ryan Hutchinson passed on scans of his recently autographed copy of Music For Pets. Thanks Ryan!
Musical Menu
Dallas Diamond passed on this little flyer. Sadly, I'm not familiar with all of the dishes listed. Click on any of the pictures to see 'em bigger.
The Boat Cruise
Don Pyle passed on this flyer advertising the The First Annual Shadowy Men On A Shadowy Planet Boat Cruise. A cruise, dinner and drinks, and Shadowy Men. Sounds like it must've been a great evening! Click on any of the pictures to see 'em bigger.
Advertisements
Sal Cincotta sent me this ad drawn by Brian for S Men singles and a T-shirt from the first issue of In Yer Ear.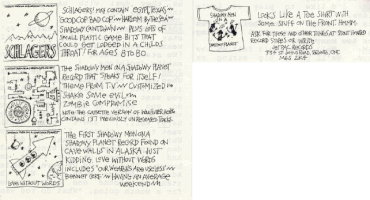 Note: There's also an article on the Ramones (with some Shadowy content) from the same issue.
Another note: This ad is taken from one of the Shadowy Men catalogs.
Patrick Michalishyn and Rich Hagensen sent in some other ads as well. Thanks guys!
Learn To Play The S-Man Way!
That first issues of In Yer Ear also had cartoon, also drawn by Brian.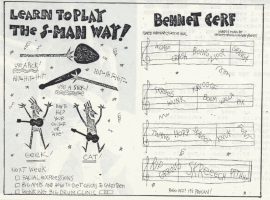 Note: Like the ad above, this is taken from the same Shadowy Men catalog.
Lounge Ax Calendar (with Phono-Comb)
Forest Juziuk sent on this club calendar with a date for Phono-Comb.
King Cow
Don Pyle sent me this drawing by Brian.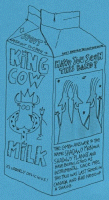 Did Someone Say "Birthday"?
erin leah pryde (who also sent cool pictures of Atomic 7 and Ancient Chinese Secret) sent me this drawing by Brian.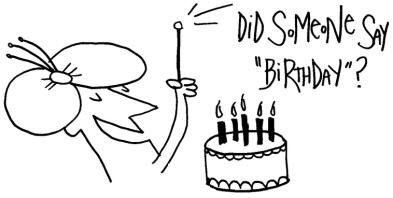 Table Header
Alex Koch sent me this table header from Larry's Hideaway in Toronto. You fold it in half and stand it on the table. Get it?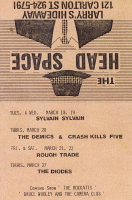 Freebies from S Men
Ryan Preble sent scans of a couple of cool little freebies the S Men included with his purchase from their now-shut bigcartel site. Thanks!
Crash Kills Five promo flyer
Alex Koch sent me this flyer advertising Crash Kills Five.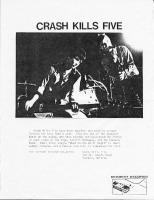 Good Guys promo flyer
Alex Koch sent me this flyer advertising Good Guys.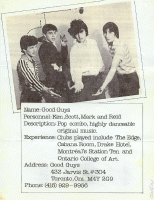 Promo Postcard
Don Pyle sent in this promo postcard announcing the release of Phono-Comb's Fresh Gasoline. The text scan is from the back of the postcard.
Digipack for Atomic 7 Album
The good folks over at Mint Records sent over a scan of the template for the digipack for … Gowns By Edith Head.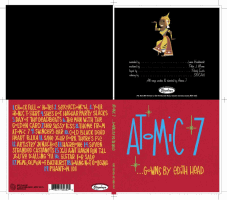 Set Lists
Here are some set lists from Shadowy Men shows. There's no blow up of the first pair.
Ancient Chinese Secret (from June 11, 2009 to be specific).
The 2012 Lee's Palace reunion show (Thanks Forest!)
The 2012 Starlight Lounge show (Thanks Scott!)
The "Thursdays at The Dakota" shows in 2013 (Thanks again Scott!)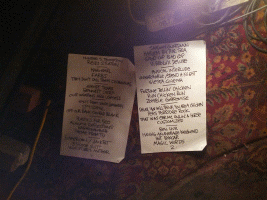 The Vazaleen show in 2014 (Thanks yet again Scott!)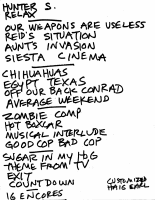 The first Lee's Palace show in 2016 (Thanks Marc!!)
The New Year's Eve show in 2018 (Even more thanks, Scott!)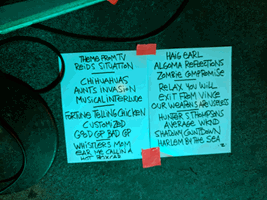 Day one of the three day stand at The Monarch in 2019 (Still more thanks, Scott!). If you look closely, you'll see four brand new song titles: "Uncle Arthur Gets". "You Me & Mexico", "Crow Magnet", and "Fancy Hotdogs".
This is an intersting one. The set list is for a Kids In The Hall taping, and it's written on the back of the shooting schedule for the same show. Thanks Forest!!
First page of Don's set list for the Moncton show in 2019. Thanks Ryan!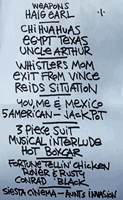 Shadowy Men Are #1!
Well, for a month, anyway. Here's a scan of the Hot Vinyl chart from the October, 1990 issue of Offbeat magazine (University of Victoria, B.C.). Pretty cool, ain't it?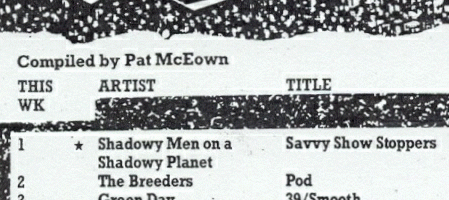 Some Review Clippings
Sent on from Don Pyle, here's a page with a number of quick reviews of Savvy Show Stoppers. You should be able to read 'em OK in the larger graphic, but just in case, there's transcriptions over on the Written Word page.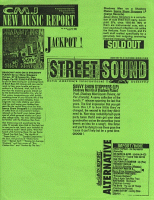 Shadowy Tax Assessment
Yes, really. It's an honest-to-goodness Canadian Tax Assessment form for Shadowy Men On A Shadowy Planet Worldwide Incorporated. No kidding. Don Pyle sent this one on.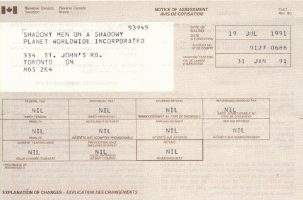 Silverware Photos
Don Pyle sent these along. They appear to be two of the pictures used in the making of the Dim The Lights cover art.
Y'know … there are only two things stranger that being enthused about having scans of photos of silverware up on a rock & roll website. One is that there are larger versions available for those who want more detail. The other is that you're looking at that page right now.
Deviled Ham Spread
As a promotional giveaway to promote Dim The Lights, Chill The Ham, the S Men made up a little promo Shadowy Men Deviled Ham Spread. Don Pyle sent along one of the unused labels. Click on it to see the detail.
Motion Machine Badge
Doesn't really need an explanation, does it?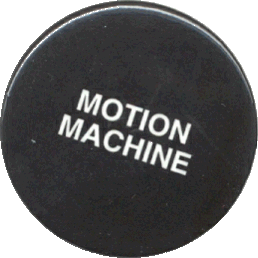 Buick McKane Silk Screen Dies
To help promote the band, Buick McKane had t-shirts, bumper stickers and business cards made up. Grant Diamond sent along scans of the silk screen dies used to make these. The t-shirt die was used to produce hundreds (maybe thousands) of shirts. They were made up by the band members and came in white on black, blue on red, blue on white and red on blue.
Shellac -
The Futurist
Steve Albini's band Shellac (Steve worked with the S Men on Sport Fishin') self-released an album in 1997 called The Futurist. The twist is that the cover of the album listed all of the people who were to be given copies, with the specific recipient's name circled. That way, if a copy got sold, they'd know who sold it. For more details, go to this page on a Shellac web site.
Why do we care? Because all three Shadowy Men (as well as Beverly and Dallas from Phono-Comb) were listed on the sleeve. (I marked up a copy of the sleeve to make it easier to find 'em.)
Huevos Rancheros Thanks The Shadowy Men
Huevos Rancheros, a Canadian trio with a big Shadowy Men influence in their sound, actually give a little "thank you" to the guys on two albums: 1995's Dig In! and 2000's Muerte del Toro. Click on the images to see 'em bigger.
MOTO Thanks The Shadowy Men
MOTO (aka "Masters Of The Obvious"), a Chicago-based drum & guitar duo, also give a little "thank you" for the guys on their single Magic Words. This single was carried in the Shadowy Men mail-order catalogs, and the drummer was the bride in the wedding that Shadowy Men recorded Just Marred as a wedding favor. Click on the images to see 'em bigger.
True "Et Cetera"
One of the times I wrote, the S Men sent me a little matchbook along with my catalog. Here's some scans.