Take me to the latest 2019 updates
(links to show videos and dates for the Shadowy Men 2019 shows)
---
In 2012, Mammoth Cave Recording Company began a reissue campaign for the three Shadowy Men albums and convinced Don Pyle and Brian Connelly to reunite for a few shows to promote them. Dallas Good of The Sadies (and Phono-Comb) was drafted to handle the bass duties. Reid's wife generously lent Reid's old Firebird bass to Dallas for the shows.
Here's roughly how the year (and beyond) have played out:
MARCH
JUNE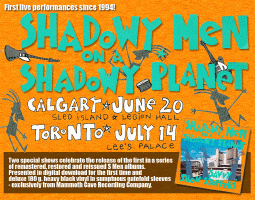 Mammoth Cave makes the first reissue,

Savvy Show Stoppers

, available for pre-order.

June 9 - St. Albans Boys and Girls Club, Toronto

June 20 - Legion Hall, Calgary (Sled Island Festival)

June 22 - Broken City, Calgary ("Secret" Show at Sled Island Festival)
JULY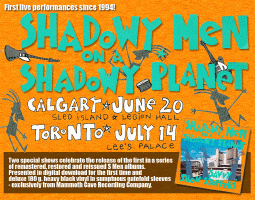 July 14 - Lee's Palace, Toronto
AUGUST
August 2 - Cameron House, Toronto (Early Show - Benefit for Mindfulness Without Borders)

August 2 - Cameron House, Toronto (Late Show - Benefit for Hospice Toronto)
SEPTEMBER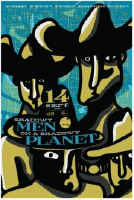 September 14 - Starlight Lounge, Waterloo

Set list scans - Page 1 and Page 2


NOTE: The S Men did a second encore that's not on the set list page: "Rover & Rusty" and "Run Chicken Run"
---
2013
FEBRUARY
February 9 - This Ain't Hollywood, Hamilton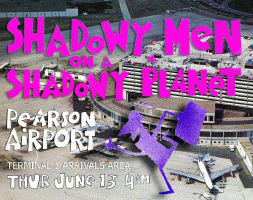 JUNE
June 13 - Terminal 1 Arrivals Area, Pearson Airport, Toronto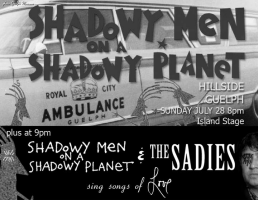 JULY
July 28, Hillside Festival 2013 (Island Stage), Guelph Lake Island
SEPTEMBER
September 5, The Dakota Tavern, Toronto

September 12, The Dakota Tavern, Toronto

September 19, The Dakota Tavern, Toronto
September 21, The Garrison, Toronto

Shadowy Men and The Sadies played Alice Cooper's

Love It To Death

album in its entirety.
"Is It My Body?"

[ChernozymVideo]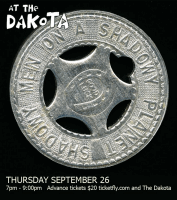 September 26, The Dakota Tavern, Toronto
---
2014
JUNE

June 29, Vazaleen, Wrongbar, Toronto

The show was a benefit for the Will Munro Memorial Queers Living With Cancer fund. Will's brother Dave sang "Sugar In My Hog" with the band.
---
2015
MARCH
The band announces that Yep Roc Records will be handling fresh releases of the original three Shadowy Men albums, plus a new box set.
DECEMBER
The band announces that the box set will be coming for Record Store Day 2016, and that it contains a new 4th album, Soft Polished Separates.
---
2016
JANUARY
The band announces that the box set release will be greeted with a pair of shows on April 15 & 16 at Lee's Palace with co-headliners The Sadies.
MARCH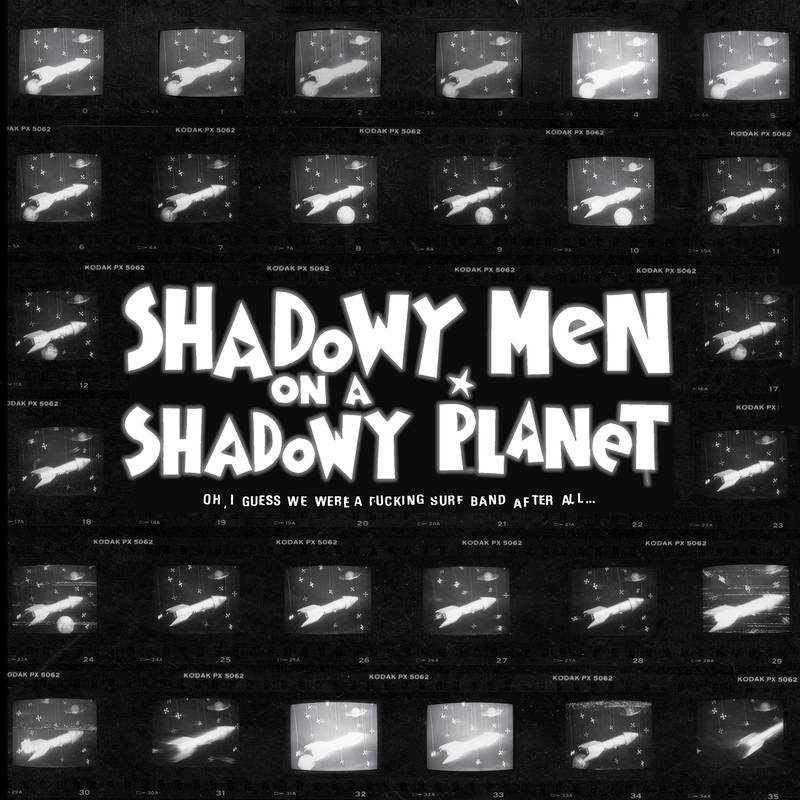 APRIL
April 14, DSTRCT, Guelph

Set list: "Hunter S. Thompson's Younger Brother", "Bennett Cerf", "They Don't Call Them Chihuahuas Anymore", "Haig, Earl", "Aunt's Invasion", "Egypt Texas", "Mr. Sandman", "Reid's Situation", "Our Weapons Are Useless", "Exit From Vince Lombardi High School", "Memories Of Gay Paree", "Off Our Back Conrad Black", "Plastics For 500, Bob", "Algoma Reflections", "Babakganoosh", "Theme From T.V.", "5 American 6 Canadian / Jackpot", "Three Piece Suit", "Who Painted Whistler's Mother", "Shadowy Countdown", "Harlem By The Sea", "Good Cop Bad Cop", "You Spin Me Round '86", "Musical Interlude", "Spend A Night, Not A Fortune", "Siesta Cinema", "Fortune Tellin' Chicken", "Run Chicken Run", "Zombie Compromise", "(Relax) You Will Think You Are A Chicken", "Peas Porridge Rock", "That Wuz Ear Me Callin' A Horse", "Customized", "Ben Hur Picked Off In A Gazebo", "Teenage Kicks", "Having An Average Weekend", "Hot Box Car", "Magic Words"
"Aunt's Invasion"

[dyjomat]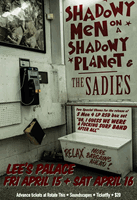 April 15, Lee's Palace, Toronto

April 16, Lee's Palace, Toronto
JUNE - 2016 WEST COAST TOUR
June 3 - The Rickshaw, Vancouver

June 4 - The Shakedown, Bellingham

June 5 - The Tractor, Seattle

June 6 - Star Theater, Portland

June 8 - Great American Music Hall, San Francisco

June 9 - The Echoplex, Los Angeles

June 10 - Pappy & Harriet's, Pioneertown

Set list picture: real photo, doctored photo (as above).
Pictures from the show in the Phil Tiki Collection Page.
Up close, high quality footage of THE WHOLE SHOW (

well, except for a song or two

) shot in 4K!: Interestingly enough, if you compare the set list to the video, you'll see that some songs were dropped from the set. Wondering if they had less time than anticipated and shortened to compensate. Even more interesting is that "16 Encores" has a new segment added! It's "Picture My Face" by Teenage Head, and it's slotted in between "More Than A Feeling" and "Smoke On The Water".

June 11 - The Hideout, San Diego
OCTOBER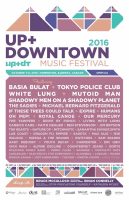 October 7 - Freemasons Hall, Edmonton (Up+Downtown Music Festival)
NOVEMBER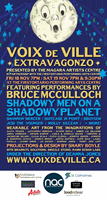 November 18 & 19 - Niagara Artists Centre, St. Catharines, Ontario (Voix de Ville Extravagonzo)

S Men provided musical backing for each of the three shows (one on the 18th, two on the 19th).
2017
JULY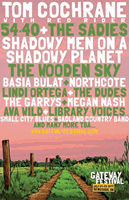 July 22 - Bengough, Saskatchewan (Gateway Festival)
AUGUST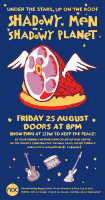 August 25, St. Catherines, Ontario
2018
MARCH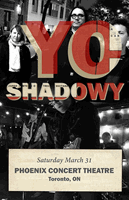 March 31 - Phoenix Concert Theatre, Toronto, Ontario (opening for Yo La Tengo)
JULY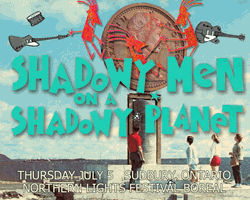 July 5 - Bell Parc, Sudbury, Ontario (Northern Lights Festival Boréal)
OCTOBER
October 4 - Niagara Artists Center, St. Catherines, Ontario
DECEMBER
December 10 - The Bowery Ballroom, New York
(secret opening act for the last night of Yo La Tengo's eight-night Hanukkah shows)
December 31 - The Horseshoe Tavern, Toronto
(secret opening act for The Sadies)
SEPTEMBER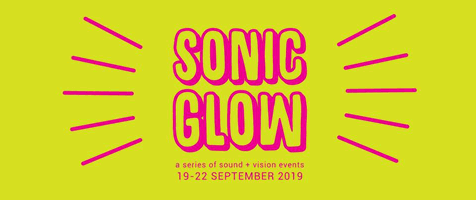 September 19 - Niagara Artists Center, St. Catherines, Ontario (Sonic Glow)
OCTOBER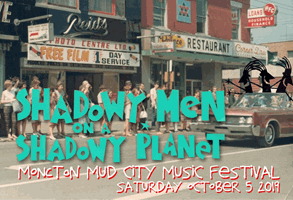 October 5 - Downtown Moncton, New Brunswick (Mud City Festival)
NOVEMBER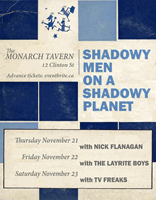 November 21 - The Monarch Tavern, Toronto

November 22 - The Monarch Tavern, Toronto

November 23 - The Monarch Tavern, Toronto