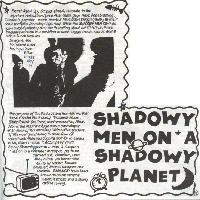 Secret Agent Spy Scopes already resonate to the important notes from Space that these guys have been blasting. Canada's premier intro-mentals have been plugging away at their sonic portfolio for a dogs age now. What the SHADOWY MEN can't do with a mood probably ain't worth fretting about but I'll tell ya, these blighters are now in a position to save saggy movie scores and a whole bunch besides.
Imagine the Morricone bloke having a Dean Elliot kinda day in the company of The Ventures and then tell me that doesn't sound like a doozy. The latest album, SPORT FISHIN' (on Cargo) was 'recorded' by Steve Albini. The resilient edge cuts a dash deeper that much of his ancillary 'alternative' produce. If life must grind along to some form of soundtrack then you oughta root for this team to lay down the lulu to accompany yours.
Savvy Showstoppers to a man, a European invasion is a contant threat as yet to be carried out. However, when they roll up you better take 'em to yr leader. Beware however, Normal weapons are useless. SMOASP have been known to cause extreme weightlessness and a strong desire to frug.