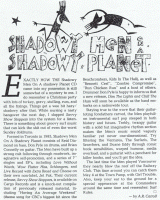 Exactly how the Shadowy Men On A Shadowy Planet CD came into my possession is still somewhat of a mystery to me. I do remember a Christmas party with lots of turkey, stuffing, rum, and all the fixings. Things get a wee bit hazy/shadowy after that. While nursing a nasty hangover the next day, I slapped Savvy Show Stoppers into the system for a listen. There is something about groovy surf music that can kick the shit out of the even the worst Sunday doldrums.
Formed in Toronto in 1985, Shadowy Men On A Shadowy Planet consists of Reid Diamond on bass, Don Pyle on drums, and Brian Connelly on guitar. The Men have built up a strong cult following through roadwork, imaginative self-promotion, and a series of 7" singles and EPs, including Love Without Words, Wow Flutter Hiss '86, Schlagers!, and Live Record With Extra Bread And Cheese on their own non-label, Jetpac. Their current release, Savvy Show Stoppers, is available on Cargo Records and is a knock-out compilation of previously released material, including "Having An Average Weekend" (theme from for CBC's biggest hit since the Beachcombers, Kids In The Hall), as well as "Bennett Cerf", "Zombie Compromise", "Run Chicken Run" and a host of others. Drummer Don Pyle is happy to inform us that a new release, Dim The Lights, Chill The Ham will soon be available as the band embarks on a nationwide tour.
Staying true to the wave that their guitar-toting forefathers carved, the Men play full-on instrumental surf pop steeped in both history and future. Trebly, twangy guitar with a solid but imaginative rhythm section makes the Men's music sound familiar yet never one-dimensional. Try filtering The Ventures, The Surfaris, The Searchers, and Duane Eddy through comic book sensibilities, warped humor, media overload, and a guitarist with a penchant for killer hooks, and you'll get the idea.
The last time the Men played Vancouver they nearly blew the roof off the Railway Club. This time around, you can catch them May 4 at the Town Pump, with Girl Trouble. Also, keep your ear to the ground for a special appearance by the Commodore around the same time and remember: Surf Rules.
-- by A.R. Carroll