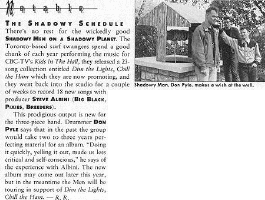 The Shadowy Schedule
There's no rest for the wickedly good Shadowy Men On A Shadowy Planet. The Toronto-based surf twangers spend a good chunk of each year performing the music for CBC-TV's Kids In The Hall, they released a 23-song collection entitled Dim The Lights, Chill The Ham which they are now promoting, and they went back in the studio for a couple of weeks to record 18 new songs with producer Steve Albini (Big Black, Pixies, Breeders).
This prodigious output is new for the three-piece band. Drummer Don Pyle says that in the past the group would take two to three years perfecting material for an album. "Doing it quickly, yelling it out, made us less critical and self-conscious," he says of the experience with Albini. The new album may come out later this year, but in the meantime the Men will be touring in support of Dim The Lights, Chill The Ham. -- R. R.