John Marriott
Soft Spots

. Curated by Carolyn Bell Farrell at Koffler Gallery 4588 Bathurst St. Jun. 10-Aug. 8, 1999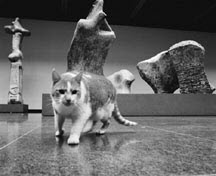 John Marriott, Where the cat's at, video projection and colour photograph, 1999. ©John Marriott
John Marriott's "Where the cat's at" is a video projection of a cute cat slinking through the Art Gallery of Ontario. It doesn't make much sense as it passes through the AGO's historic painting galleries, but its presence among the Henry Moore sculptures seems perfectly complementary. Space, form, movement, the vulnerability of the living moment. I think Henry would be proud of this collaboration. Meow. Reid Diamond
Daniel Bowden and Reid Diamond
Danny and Reid's Motion Machine

, with opening acts by Peaches and John Porter at Old York Bar and Grill, 167 Niagara, Aug. 28, 1999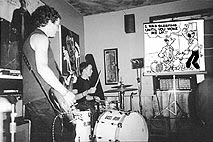 Daniel Bowden (on drums) and Reid Diamond (on guitar), Danny and Reid's Motion Machine, Old York Bar and Grill, August 1999. Photo: John Porter
I arrived just in time to catch Peaches intoning over jaggy '80s synth rhythms while windshield shots ofanonymous night-time highway tunnels played on the screen. Creepy. European. The night's finale, "Danny and Reid's Motion Machine," was the antidote to Peaches alienating vibe. Their piece read as a happy-sad love poem to the role of pop culture as experienced in a specific time and place. The period yearned for is the late '70s. The place is a lovingly rendered, mythic version of Toronto (with minor excursions elsewhere). The images milk the city's secret soulfulness the way every urbanophile movie-maker soaks up the faded romance that bleeds out of Coney Island. We're not used to thinking of our city as having a soul, so D&R's job is tougher and more worthwhile than Spike Lee's.
Taxonomy takes centre stage in the middle of the movie: we visit assorted bridges, assorted tall things, assorted round things - from the skeletal geodesic dome at Montreal's Expo '67 site to a big round flower head bobbing melancholically in the breeze. All this is interspersed with droll revisitations of the wisdom of Boston, Bolan, Zeppelin and other '70s shamans, and accompanied by a jolly, jangly guitar 'n' drums soundtrack. Keep on movin'. Nick Gamble
Motion Machine
I arrived late so I missed John Porter's film, but caught Peaches' synthesized chatter beats, and the signature rock twangs of "Danny and Reid's Motion Machine." Unlike most live gigs, this wasn't simply music but a mix of super-8 footage and live performances. "Motion Machine" flipped from letting the music control the visuals, to music written specifically for the footage. For one short, their music informed the image of an elevator ride up the CN Tower. According to R. Diamond, the architecture rolled by with the gear-like rhythm of the song. It was the opposite for another short film that flashed various rough-cut images of sphere-shaped objects with the music following. Regardless of what came first, Bowden and Diamond were in perfect sync.
I was glad to have seen Peaches play a couple of nights before at the El Macombo where she really shone, filling the room with energy. This evening she seemed somewhat shy and less spontaneous, but her idiosyncratic blend of tinny keyboards, canned beats, pulsing vocals, and jerky super-8 footage pleased a jammed house. Do it again Peaches! Jenifer Papararo