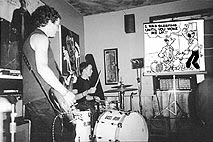 After Phono-Comb broke up, Reid Diamond formed a duo called Danny And Reid's Motion Machine. Danny and Reid played while Super 8 films ran in the background. Kind of a modern version of the old tradition of having a live pianist accompany silent films. There are no recordings that I'm aware of.
Sadly, Reid passed away before the final Motion Machine project, titled "Echoplex", was performed. Brian Connelly stepped in and played Reid's parts so the work could be shown.
Danny And Reid's Motion Machine were:
Danny Bowden - drums
Reid Diamond - guitar
You can read a bit about the band in an article from Shotgun Reviews.