A Trip Around Lake Ontario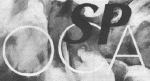 While on a driving trip with some friends recently, I pulled out a road map of Ontario to illustrate a story I'd heard from a trucker in Barrie.
"See," I said, unfolding the map across the front of the windshield of the car, "If you hold up a map of Ontario sideways, with the west facing north, this part of Ontario looks like an elephant, and Owen Sound is the elephant's asshole."
I knew this was valuable information to share with my friends. One day they might be stranded on the highway just outside Grand Bend, and when a trucker stopped to help them - "Hey, where you headed?"
"Oh, up the elephant's asshole!"
A friendship would be etched in chrome.

One in the trucker's cab on the way "up" you would be thankful if you knew a few more secrets of local folklore, abundantly available in David McFadden's 1979 book A Trip Around Lake Huron. McFadden, a long time poet and resident of Hamilton, set himself the task of travelling around each of the five Great Lakes and chronicling his encounters with a book about each. Travelling with his wife, two daughters and their dog, McFadden followed his instincts as they slowly meandered around the lakes and lakeside towns.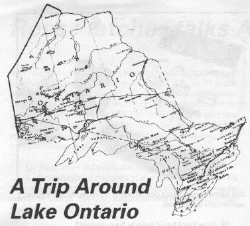 But McFadden and his wife divorced in the early eighties and, with his children now grown, he abandoned his Great Lakes project after only two books. It was local filmmakes Colin Brunton who approached McFadden one night at a poetry reading with the idea of following him with a camera crew on his next trip. McFadden admitted he was afraid to try another such book without his family along. If his divorce from his wife exposed his failings as a husband, perhaps another book would reveal his shortcomings as a writer turning forty alone. But when Brunton pushed ahead and received a Canada Council grant for the project, McFadden sensed an irony he couldn't resist. Instead of his wife and two children, McFadden would hit the road with a filmmaker and his two assistants (sans doggie). The book would be A Trip Around Lake Superior declared McFadden. But Brunton pulled on the financial reigns. "We only got enough money to do Lake Ontario." McFadden, admitting that Lake Superior should be his swan song, jumped into a rented shiny red convertible and headed east down highway two, with his surrogate family in tow.
McFadden has grown up an lived on the edges of the Great Lakes all his life, and excuse-me-harbours an abiding passion for them and their people. The Great Lakes are, to McFadden, one unifying factor among millions of Americans and Canadians living on their shores. Whether people pull fish or drinking water from the Lajes, or use them for transporation or even war, they are a lifeline maintaining an immense population who live along their shores. McFadden likes to this of it as one giant clan - small dots on maps that are nonetheless very connected.
McFadden is writing the stories of the people and their role in this giant model, and he has the ability to find a story in seemingly insignificant places. When he doesn't, he makes one up. And that's what makes McFadden himself such a great story teller. Fact and fiction are so successfully blurred that it is the telling of these stories that takes precedent over the actual events. The significance is the way things are remembered and described, revealing how these people see their positions in relation to life's events. What McFadden does is investigate our sense of environment, politics, power and personal importance by, well, talking to people. And while some of the characters and events may be fictitious, they are, in fact, allegories and metaphors for the author's own voice.
"What annoys me most is when people ask is something really happened in one of my books," writes McFadden. "What we write down comes into existence. We have the power to make things exist."
As McFadden heads clockwise around Lake Ontario, he ventures where not family man could go before. While in his past books the action centered around his van and the campground, McFadden is now the lounge lizard, a single man staying upstairs in a local hotel. As a result, McFadden tends to meet people with a cruder vocabulary.
"Could you tell us where Clark's Restaurant is?"
"Right fuckin' here, man."
"But it says Maple Leaf."
"I don't care what the fuck it says. It's fuckin' Clark's."
While McFadden may be a touch cynical at times in the book, he never seems to lose interest in people, and is always careful not to judge. As he seems to glide through a stream of contentious subjects he offers provocative insights along the way into just what makes people tick. A simple conversation with a waitress in a roadside eatery takes on value, a joke from a service station attendant is a precious revealing exchange. The importance of being people is restored. The importance of understanding people is revealed.
A Trip Around Lake Ontario is not just a mere travelogue; it is a modern odyssey. McFadden's prose is lyrical and poetic, bringing a sense of orchestration to what would otherwise seem a haphazard world.
* Reid Diamond
David McFadden's A Trip Around Lake Ontario is published by Coach House Press, and is available at Pages Bookstore, 256 Queen Street West.
Colin Brunton's short film A Trip Around Lake Ontario is available on VHS video from Abelard books, 519 Queen Street West.