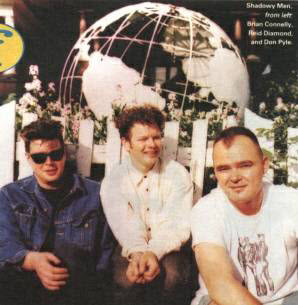 SHADOWY MEN IN THE HALL
Kids In The Hall's Kevin McDonald converses with fellow Canadian entertainers Shadowy Men On A Shadowy Planet
I've known Shadowy Men On A Shadowy Planet for nine years. Since our show began, they've written music for us and play at all our tapings. The Shadowy Men -- bassist Reid Diamond, guitarist-keyboardist Brian Connelly, and drummer Don Pyle -- were very honest and told me I wasn't SPIN's first choice to interview them. Come to think of it, they were more than honest. They harped on it. I came to the interview totally unprepared because I figured SPIN didn't want a professional type of interview or they would've asked a professional type of interviewer. They were obviously going for the charm of a guy who didn't know what he was doing. If that's what they wanted, I did not disappoint. (I turned the recorder on and said, "I haven't thought of any questions." There was an awkward pause and then they told me a rock anecdote.)
Reid: At the end of one tour, we were playing Whistler in British Columbia, which is a totally artificial town. Let me put it this way: Slumming it in Whistler is going to the Hyatt Steak House. It's very expensive, but cheap to them. The first night was awful. There were about 30 people in the audience and they were only inside because they were at the wrong place. We finish the set and I say "Good night" and then over the P.A. I hear the sound man say, "Did I just hear them say good night? Are we going to stand for that?" We're in the back room and he comes in. I say, "There's no one clapping." "They want an encore! They love you!" He leaves and we hear, "I just talked to the band and if they hear a little noise they're going to play some more!" We hear a low kind of clunka, clunka, clunka so Don went out to play "99 Bottles Of Beer" by himself because Brian and I didn't want to. And they start dancing. The only song they danced to all night. Brian and I let him get down to 55 bottles and then joined him. The second night we finish and we hear, "Did I just hear them say good night?…" It was a recurring nightmare.
Kevin: Questions … gotta think of some questions. (I asked the Shadowy Men about a local Toronto band they played with at the Ontario Place Forum recently. They went silent for several moments.)
Reid: Well … they're nice guys.
Brian: Real nice guys.
Kevin: Oh yeah, they seem like nice guys.
Don: King Cobb Steelie [a band Don produces] has a term for that: B.G.N.G.: Bad Group. Nice Guys.
Kevin: How do you think you guys sounded?
Brian: We sucked but we were nice guys.
Kevin: Would you guys ever play stadiums?
Brian: That would never happen.
Reid: And we couldn't do it.
Kevin: Do you guys have a career plan?
Reid: No.
Kevin: I had a friend in a band who had it all planned out. Their first three albums were going to be poppy. The fourth was going to hint at maturity. The fifth one, the soundtrack to their first movie. The sixth would be their classic and the seventh would, of course, be the disappointing one. Then they'd split up and he'd go solo.
Reid: No shit.
Don: How many albums did he get?
Kevin: None.
(I'd like to end with another Whistler anecdote.)
Reid: I went to the strip bar in the hotel because it was the only bar around. It was just one stripper and a fire pole. When she finished, she said, "Good night," and left. Over the P.A., the sound man says, "Did I just hear her say good night?…"