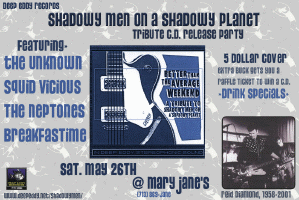 The official release party for the Better Than The Average Weekend CD was Saturday, May 26th, 2001 at Mary Jane's in Houston. Your Shadowy Webmaster flew down to Houston for the festivities. Yes … that's me (badly) introducing the first band.
Anyway, the show kicked off with Breakfastime & The Awesome Possums in one of their first performances together (Breakfastime recorded his track on the tribute album by himself). Breakfastime, as you might guess, is the fellow clad in flannel PJs wielding a mean Flying V. Breakfastime & The Awesome Possums came out roaring through a loud, powerful instrumental set with a stronger hard rock feel (as opposed to a more traditional surf sound). In the spirit of the evening, they blasted through "That Wuz Ear Me Callin' A Horse" in the middle of the set.
Next up were The Neptones (who were also my host for the day … Thanks Matt!). The Neptones played the most "traditional" surf set of the show, picking up some great songs from their Bikini Atoll Beach Party EP as well as their track on the tribute, a wonderful cover of "Harlem By The Sea", complete with a subtle reggae beat to it. Wonderful.
Up third were your hosts, Squid Vicious. The Squid threw themselves most wholeheartedly into the Shadowy feel of the evening, covering "Spy School Graduation Theme", "Egypt Texas", "Having An Average Weekend" and a first-time-in-public version of "Jackpot" along with some Squid originals. The highlight was their closer, a long version of the Squid original "Under The Green", available on the Fiberglass Jungle sampler CD and potentially to be rerecorded on the second full-length Squid CD.
Closing down the show were The Unknown who did "Customized", but forgot to do "Shadowy Countdown" (a song they use as an opener from time to time). Picture explanation: The Unknown are a trio, yet you see six people on stage. The other three are dancers. On the far left is their regular dancer. On the far right is a friend of hers, conned into filling in for The Unknown's usual second dancer. The guy in the middle with the mask? Beats me! He just jumped up on stage, mask and all, and went to town.
Overall, being on Memorial Day, I think we hit some conflicts 'cause the turnout wasn't what we'd hoped. However, the folks that came had a great time. All four bands did a fantastic job. Ya shoulda been there!
---