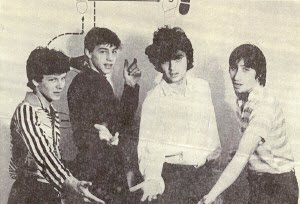 After Crash Kills Five broke up, Reid joined The Good Guys. Ken Priestley gave me the scoop on the band:
I had known Reid since I was in the legendary Dead Bunnies. Dead Bunnies had done several shows with Crash Kills Five. After Crash Kills Five broke up, Reid joined the new band I was in, The Good Guys. We'd existed for about a year before Reid joined. He took over the bass duties and I concentrated on singing. We lasted about 3 or 4 months. We played our own songs and some covers. The Rezillos' "It Gets Me" is the only one I remember.

A few years later Reid and I started playing again and were eventually joined by Brian on guitar and Don thought he'd like to try the drums. After a few practices I left and they continued on without a singer and called themselves Shadowy Men On A Shadowy Planet.
Ken and the Shadowy Men stayed friendly after that, with Ken's later bands opening for the them on occasion. He even sang with Shadowy Men at their "6th Birthday Party" show:
"Reid had this idea that I should wear my suit and be a business guy and drunkenly yell out 'Hungry For Love' and they ignore me until my cue and I jump up and sing it. I remember I was a little too good at the drunken part."
Good Guys were (from left to right):
Reid Diamond - bass
Scott Rees - guitar
Ken Preistley - vocals
Mark Shannon - drums