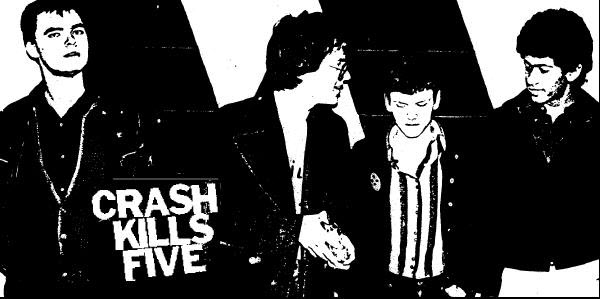 Three members of the last lineup of Buick McKane (Brian, Reid and Alex) left for Toronto after Buick McKane broke up. They added Don Pyle on vocals and formed Crash Kills Five. CK5 was a punk band more in the spirit of the Ramones than in the sound that Don, Reid and Brian would have with Shadowy Men.
Shortly before the original EP was recorded, Brian left the band and was replaced by Mohammed "Eddy" Nagdee (from the Toronto punk band The Dents) on guitar. The Shadowy Men mail-order catalogs had the EP available for a time.
In between Crash Kills Five and Shadowy Men, Reid Diamond was briefly in a band called Good Guys.
first lineup:
Don Pyle - vocals
Brian Connelly - guitar
Reid Diamond - bass
Alex Koch - drums
second lineup (as credited on the EP) and left to right in the above picture:
Donald Pyle - vocals
Alex - drums
Reid O'Matic - bass
Nagdee - guitar
NOTES:
Alex's brother Steven was a guitarist in The Viletones and The Demics.
Alex is currently the drummer for Tony Balony & The Rubes.