DISCLAIMER: The following has more to do with me than Shadowy Men. Heavy boredom may ensue. Do not read while operating heavy machinery.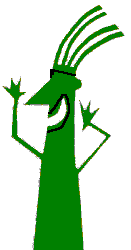 So, who the heck are you, anyway?
My name is Owen Gwilliam. I live in Columbus, Ohio, and I've been running this site since … since … shoot, I can't remember exactly when I set it up! It was sometime around early '96.
How the heck do you pronounce "Gwilliam"?
Simplest way to explain - take the names "Gwen" and "William" and mash 'em together. The "G" isn't silent, and there's no "s" on the end.
How can I get in touch with you?
Just drop me an email.
You're in Ohio? How on Earth did you get to be a Shadowy Men fan?
Well, I'm one-quarter Canadian. Does that count?

I got to be a fan the same way a lot of people did … via The Kids In The Hall television series. I liked the show a lot, but the theme song and link music absolutely floored me. A local record store had a copy of Dim The Lights, Chill The Ham, so I picked it up. I liked it a lot on the first play, but I didn't really get addicted until a few weeks later. In a nice bit of timing, just as I was getting really hooked, I read that Shadowy Men were opening for The Fleshtones at a club in Columbus. I found out at the show that this was their first appearance outside Canada. Hearing that sound live just laid me out. Same sound as the records, but with all the flair and invention of a live show. Amazing. You can read about the shows I got to see on the Stories page.

At the show, I bought copies of Savvy Show Stoppers, Music For Pets, and Tired Of Waking Up Tired. Hearing these just cemented the addiction. At that point, I had to have it all. I got a mail-order catalog sent out and basically ordered everything I didn't already have. I got very lucky and got a number of the singles from the band while their mail-order was still in place.
Are Shadowy Men your favorite band?
Weirdly enough, considering the amount of time and work I've put into this site, no. I'm a huge fan, but I can't say they're my very favorites. However, my two favorites (The Who and Frank Zappa) are already so well covered on the web that it would be silly to do another page. And heck, doing something as complete as the Shadowy Web tries to be for The Who or Zappa would scare me to death. I've seen whole books of discographies for both those two and I'd hate to try to duplicate that.
OK, so why did you set up a Shadowy Men site?
Frankly, I thought it would be fun to run a web site. Like I mentioned above, I didn't want to do something that had already been covered better other places. I was looking for a Shadowy Men web page (trying to see what my collection was missing) and I couldn't find much out there. There were references to the S Men, but nothing that pulled it all together. The closest thing was a page on billions.com (Shadowy Men's booking agency). So, I made a beginning discography and sent it to them. They liked it enough to post it, thus encouraging this little project of mine.

Once I had web space of my own, I moved the discography over to my site, HTML-ized it, and I was on my way. Later on, I moved it to this server (with lots more space) and that's allowed me to add way more content. And to be honest, feedback, suggestions, notes, and updates from people who've visited the site really motivated me to keep it up as best as I can.
So, who else do you listen to?
Off of my silly personal home page are year-end album reviews I've written from '87 until now, a long list of the concerts I've attended since 1980, and a list of my personal Top 100 Albums Of All Time. Those will definitely give you an idea of where my tastes lie. But in the interest of summing it up, here's a bunch of acts that I'm very, very fond of. And I've probably missed a few in here.

Previously mentioned:

The Who

(and Pete Townshend solo)

Frank Zappa

Big-time, well known acts:

The Beatles
Coldplay
Tom Petty And The Heartbreakers
Pink Floyd

(and Roger Waters solo)

R.E.M.
Steely Dan
U2
Neil Young

(though I'm not a big CSNY fan, weirdly enough)

Lesser known (in the US, anyway) / alternative / indie acts:

Captain Beefheart & The Magic Band
Adrian Belew

(and The Bears)

Biffy Clyro
Big Star
The Bonzo Dog Band

(and Neil Innes and his solo projects like The Rutles)

Kate Bush
Camper Van Beethoven

(and Cracker)

Dead Kennedys
Doves
Eels

(and E solo)

The Flaming Lips
Robyn Hitchcock

(with and without The Soft Boys)

The Hold Steady
Hüsker Dü

(and Bob Mould and Grant Hart's various solo projects)

The Jam

(and The Style Council and Paul Weller solo)

King Crimson

(especially the '81-'84 quartet)

The La's
Man Or Astro-Man?
Manic Street Preachers
Randy Newman
The Polyphonic Spree
Lou Reed

(with and without The Velvet Undergound)

Sigur Rós
The Swell Season
Teenage Fanclub
Television

(and Tom Verlaine and Richard Lloyd solo)

Richard Thompson

(with and without Fairport Convention)

Tom Waits
The Waterboys
X
XTC
Warren Zevon

Dirty little secrets (the critically slammed and desperately unhip):

Asia

(the albums with John Wetton)

Big Country
Electric Light Orchestra
Genesis
Oasis

(and Noel Gallagher's High Flying Birds)

Queen
Rush
Yes
Do you have a copy of all the records and CDs listed on the Shadowy Web?
I wish, but no. I've got

most

of it, but not everything.
What are you missing, and looking for?
Sanity?

No, seriously, here's the ones I'm looking for:

REALLY LOOKING FOR:

Anything I don't have listed. At the very least, I want to find out about 'em so that I can keep the web complete.
Any videos.

NOT LOOKING FOR AS HARD, BUT I'D PROBABLY GRAB IT IF I SAW IT: