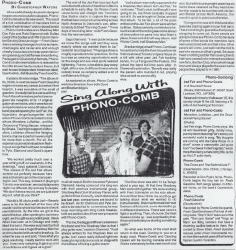 Sing Along With Phono-Comb
by Christopher Waters
Into a world already doused in designer fragrances and couturier colognes, Phono-Comb unleashes its new scent. The result of a rich combination of members from a variety of well-known Toronto-based bands - Phono-Comb unites once Shadowy Men Don Pyle and Reid Diamond with Dallas Good of the Sadies and Fifth Column member Beverly Breckenridge - Fresh Gasoline is a winning melange of ooh-la-la charm, champagne and caviar airs and enough cheeky insouciance to keep potential lovers guessing and old flames smouldering. Packaged in CD and vinyl formats, Phono-Comb's instrumental album is released by the little known haute couture house, but well-known independent American label, Quarterstick, distributed by Touch And Go.
Explains Breckenridge, "The album title, I think, is neat because Fresh Gasoline might not make any sense, but when I first heard it, it was evocative of the smell of gasoline. It's really tied to a sensual thing." Fresh Gasoline makes perfect sense given the inception of its 17 original guitar-driven tracks, which were honed and perfected over some 30 dates the band played opening for Jad Fair, the legendary singer/songwriter with whom Phono-Comb recorded its first album, Monsters, Lullabies … And The Occasional Flying Saucer, released by Shake. Touring in support of Monsters, Lullabies offered the fledgling band a chance to perform every night for more than a month. For all, the experience proved invaluable in fleshing out songs that had been compiled in Pyle, Diamond and Good's spare time.
"We worked pretty much over a year writing stuff, on weekends, in the evenings," says guitarist Diamond. "The release of the Jad Fair album worked out perfectly because here was a chance to go on the road opening for Jad. This way, instead of playing in Toronto over and over, we could play every night in a different city and say to people, 'We don't have a record, we are just starting out, what do you think?'
"We did a 35-city tour with Jad - Beverly came in for the last half of the tour; she couldn't do the whole tour because of work commitments. By the time we got to the end of the tour, after opening for Jad every night, we thought we sounded great. Steve Albini had seen us in Chicago and really liked the band. We were surprised by that because he was a huge Shadowy Men fan and he pleaded with us not to break up. So when he saw us and said, 'I love what you guys are doing. I really want to work with you,' it was very nurturing. It gave us a lot of confidence and it gave us a goal."
The end of the Jad Fair tour last April coincided with a block of free time in Albini's schedule in early May. So Phono-Comb raced home and straight into Toronto's Gas Station studio to capture the magic that had been conjured up traveling across North America in Diamond's van, affectionately dubbed "Dancing Queen." Three days of recording later, voila Fresh Gasoline, the new sensation.
Says Diamond: "It was quick becuase we knew the songs well and they were exactly where we wanted them to be." Guitarist Good agrees: "Playing a show is roughly equivalent to ten practices. So the tour was an amazing opportunity to work on the songs and see what spots needed tightening. For me, being able to play every night, all in a row, in different towns where nobody knew us certainly added a lot of confidence to things."
As captured on the album, Phono-Comb's work is a diversion from both Good and Breckenridge's past musical output. But for drummer Pyle and Diamond, having come out of a long run with their previous instrumental group, Shadowy Men On A Shadowy Planet, with guitarist Brian Connelly, which disbanded late last year, comparisons are bound to be drawn. As for Diamond and Pyle (unable to be reached for comment as he was busy recording with King Cobb Steelie), both are excited about their new prospects in Phono-Comb.
"For me, the biggest difference between this band and the Shadowy Men is that I play guitar now," explains Diamond. "I had always written for the Shadowy Men on guitar, but I never really delved right into having to reproduce those sounds on stage with the fullness of being a guitar player. "Jad's album was really supposed to be a Shadowy Men album with Jad Fair," he continues. "That's what Jad thought it was going to be, but Brian basically dropped out of it. So we brought in Dallas and that album. To be fair, a lot of the parts written on the Jad Fair album were written by Brian. Dallas certainly contributed a lot, but the bulk of the writing was done ahead of time before he came in to take Brian's place. It was sort of a half-way album. Half Phono-Comb, half Shadowy Men."
Breckenridge joined Phono-Comb last November to help the trio perform its first live show at Toronto's Opera House on a bill with other past Jad Fair backing bands, Yo La Tengo and the Pastels. She joined the band full-time soon after. In Diamond's estimation, "Beverly was really the person who rounded it out, playing wise as well as personality wise.
"Out first show was with Yo La Tengo about a year ago. At that time, Shadowy Men were still together. We were working with Fred Schneider on his solo album. Around that time I think me and Don got talking about what we wanted to do instrumentally. Brian had formed the Heatseekers at that point, so we decided to go in different directions. There was never a fight or anything. Then, of course, the Heatseekers broke up. I was surprised by that. Brian will definitely be starting something again."
So what was borne of the road shall return to the road. Coming to you on a dusty road, Phono-Comb and Dancing Queen will be touring Canada and the States extensively for the next month and a bit. But while touring may seem like old hat to these veterans as they head down familiar roads to be reunited with old fans and friends across North America, Diamond is quick to point out otherwise.
"Going on the road with this band often feels like starting again in your first band. There's nothing to guarantee that people are going to come out. Some people are going to see Phono-Comb because of some of the bands the members have been associated with and that's fine. Other people will come, just walk into a club to see who we are and that's great. Because there's nothing sadder than seeing bands that have ceased to be relevant and attract new fans, like Gun Club, who came through town and always played to the exact same people they played to in 1980."
---
Phono-Combing
Jad Fair and Phono-Comb
Released in time for Halloween '95, this spooky single fit the bill, featuring a B-side of Jad howling at the moon.
Jad Fair and Phono-Comb
Monsters, Lullabies … And The Occasional Flying Saucer
Jad Fair sings, Phono-Comb plays. We all win! Seventeen gritty, mostly noisy, punchy tracks featuring Fair's wonky and wonderful world in song. "My thoughts are running wild like Gene Krupa on a drum" comes a memorable Jad quote from "Too Sweet To Be Forgotten," which more than being a mere song title, sums up this LP quite nicely.
Phono-Comb
Recorded at Don Pyle's home, Phono-Comb begins the long trek for Fresh Gasoline. Both songs appear, in different forms, on the band's Quarterstick debut.
[Note from the Shadowy Webmaster: There are three songs on the single, and only "The Crass And The Switchblade" is on Fresh Gasoline. The article is correct that it's a different version though.]
Phono-Comb
Recorded by Phono-Comb the quartet, Fresh Gasoline shows off a host of winning looks. "Grip 'n' Grin" tears out of the gate. "The Lyon Game" and "Virgo on Mars" are lilting number that have a charming audible texture to them. Recorded by Steve Albini, Fresh Gasoline rescues guitar-driven instrumental music from the mawkish paws of that hammy hipster Quentin Tarantino.