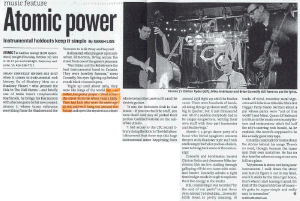 Instrumental holdouts keep it simple
by Sarah Liss
Brian Connelly knows his shit when it comes to instrumental rock history. Ex of Shadowy Men On A Shadowy Planet - who penned the Kids In The Hall theme - and briefly one of Neko Case's irreplaceable Boyfriends, he brings his fascination with obscure gems to his new project, Atomic 7, whose tunes reference everything from the Shadows and the Ventures to Link Wray and beyond.
It all started when he grew up in suburban Edmonton, living across the street from one of the genre's pioneers.
"Wes Dakus and the Rebels were the best instrumental band in Canada. They were horribly famous," raves Connelly, his eyes lighting up behind swank blank-rimmed specs.
"Right up until about 1964, they were like kings of the world. He - or rather, his guitar player - lived across the street from me when I was a baby. They had kids who were the same age as me, and we'd hang around the house and open the mysterious closet where he kept the lamé outfits and the electric guitars.
"It was forbidden fruit in that house - if you touched the stuff, you were dead! And they all parked their 30-foot Cadillacs outside on the suburban streets.
"I had access to the CBC record library doing the Kids In The Hall show. I discovered that there was this huge instrumental scene happening from around 1958 right up until the Beatles came. There were hundreds of bands, all doing this go-go dance stuff, really big in Quebec, but it just dinosaured out. All of a sudden, everybody had to be singer-songwriters, writing their own stuff with four-part harmonies and Beatles wigs."
Atomic 7, a go-go dance party of a band who blend spaghetti western themes with Shadowy-style surf-rock and loungey bachelor-pad ass-shakers, want to bring back some of that old energy.
Connelly and bandmates, bassist Clinton Ryder and drummer Mike Andriosso, kick ass live, sizzling through galloping riff-driven tunes with minimal banter. Connelly admits a tight time budget made it tough to replicate their live energy in the studio.
Still, considering it was recorded "by the seat of our pants" in just three days, Atomic 7's debut disc, … Gowns By Edith Head, is pretty amazing, 18 tracks of vivid, evocative aural vignettes with hilarious titles like "She's Got Haggar Party Slacks" (written about a pal whose pants were "out of this world") and "Mimi, Queen Of Bathurst" (a tribute to the music community fixture and restraunteur who's fed half the city's starving rock bands). As he explains, the record's supposed to be like a really good mix tape.
Connelly could talk for hours about the stories behind his songs. There's no need, though, because the tunes spin their own narratives. He has no clue about how the coherent song structures fall into place.
"My process is about not being near instruments. I walk down the street and hum it, figure it out in my head, and if it sticks by the time I get home, that's when I start tearing it apart. It's kind of the Duane Eddy law of music - it's gotta be super-simple and really easy to remember."
sarahliss@hotmail.com