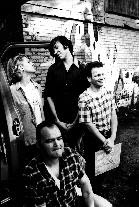 Phono-Comb is:
Beverly Breckenbridge - bass
Reid Diamond - Guitar
Dallas Good - Guitar
Don Pyle - Drums
It all started in September 1993 at the Toronto Film Festival. The feature length documentary Half Japanese: The Band That Would Be King was showing. Jad Fair, Mr. Half Japanese, was to play during the festival. At the advice of a friend he called on Shadowy Men On Shadowy Planet (Brian Connelly - guitar, Don Pyle - drums and Reid Diamond - bass) to accompany him. Favourite songs were pulled together and a set emerged, sounding quite fabulous.
Following the success of that show, all concerned reconvened in a garage during the summer of '94, played every idea that came into their heads and put it on tape. It seemed that a collaboration was in the works. Jad went home leaving Shadowy Men to sift through the rubble and shape the best bits into songs.
Around this time Shadowy Men were due to begin a planned one year hiatus. Brian decided that he didn't want to work on the Jad album during his time off, so Don and Reid recruited their guitar playing friend Dallas Good of The Sadies to work with them on this project.
An album was recorded in February of '95. Titled Monsters, Lullabies… And The Occasional Flying Saucer, under the name of Jad Fair and Phono-Comb, which was released in March of '96 on Shake The Record Label.
In November of last year, Reid put his bass under the bed and began to wield a six stringer. Beverly Breckenridge (of Fifth Column) was drafted in to provide the low end for the project that was rapidly becoming more than a one off. Out of some kinda irrational sense of tradition, the affair was given a name, that name being Phono-Comb. One week later the band were onstage for the first time.
With the arrival of '96, Shadowy Men decided to attach the rather glamorous prefix "the now defunct" to their name, bringing a ten year chapter to an amicable close and freeing Don and Reid to concentrate on Phono-Comb.
During their time Shadowy Men released 3 albums, 12 singles, and performed for five years as the "house" band for the Kids In The Hall comedy series (which made an appearance on UK screens courtesy of Channel 4 in '94/'95…. and erm, they're currently repeating it!)
The first release as simply Phono-Comb, The Crass And The Switchblade, hit the racks courtesy of Quarterstick in July of this year. The title track pays homage to a rather obscure religious melodrama "The Cross And The Switchblade" as well as to 80's UK anarcho-punks Crass.
In May of this year the band entered the studio with old pal Steve Albini who they had imported to Canada and Fresh Gasoline was recorded and mixed in a no nonsense 5 day period. Steve had previously worked with Don and Reid recording the final Shadowy Men album Sport Fishin' and on the Fred Schneider (B-52's) solo album, Just Fred, on which Shadowy Men appeared.
Phono-Comb are Quarterstick's first Canadian signings and we hope that after you listen to Fresh Gasoline we will not need to explain why. Containing sixteen instrumentals and a nostalgia play it conspires to make an atmospheric collecton of tonal colourations. Phono-Comb find no need for vocals. They do suggest that you make up your own. Except, of course, in the case of their take on the Ramones classic, It's A Long Way Back which we expect you to know word for word.