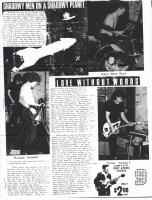 The band with one of the longest names in rock 'n' roll history finally made a trip westward to London (from Toronto) on a very hot night this past summer. The Shadowy Men treated a sparse, but definitely enthusiastic crowd to their fine blend of surf and just plain mental instrumentals that had the club smoldering. These guys are so powerful that they don't even use a PA to blow out the crowd. The occasional vocals that they did do were yelled at the crowd without the aid of any microphones. Now that's something you don't see very often and it makes for a compact unit when it's time to do a road trip. Not only that but there's no sound board so you don't get some drunken sound man messing with your sound. No, the Shadowy Men had a pure, untouched sound, a rock and roll surf sound that deserves to be heard world wide.
Their trebly, over reverbed riffs may be borrowed from early 60's surf bands, but the delivery certainly is not. No, the songs are aggressive, just meat on the bones delivery that is influenced by the late 70's punk movement. In fact, some of the Shadowy Men used to be in a late 70's punk band that went under the name of Crash Kills 5 (they have a single out called "What Do You Do At Night" on their own label). What makes the Shadowy Men's delivery so aggressive is the manic bass playing of Reid. This character is almost dwarfed by his Gibson Firebird bass yet he never stands still for a moment. If he isn't dancing across the stage and into the crowd, he's marching around goose step style. All the while tossing his bass around as if it is made of balsa wood. Then, there's the constant drum barrage from Don, the man behind the Helix drum kit. No, not a new company, but the old drum kit of that heavy metal outfit that should've been put to sleep or something. Don won this drum kit from Much Music (Canadian MTV) in a Helix trivia contest, or something like that. Or, maybe Don killed the drummer from Helix and stole his kit. Not true, but definitely more exciting. Then there's that trebly over reverbed Fender guitar sound from Brian. Obviously this guy's listened to a few too many 60's surf tunes and gone over the edge, because he has one of the wildest guitar sounds known to man. These three guys combined make for some exceptionally enjoyable and danceable instrumental madness. Who said instrumentals are boring anyway? These guys are anything but boring.
Since they've been in existence, the Shadowy Men have out out two 7" EPs on their own label. The first one, Love Without Words has 3 songs on it: "Our Weapons Are Useless," "Bennett Cerf," and "Having An Average Weekend" - all great guitar instrumentals. There are several different picture sleeves that come with this one. The Shadowy Men logo on the front comes in several different colors - I've seen 3 or 4 so far. Their second EP, Wow Flutter Hiss was released this year and consists of 4 crazed instrumentals. The song "Theme From TV," a theme for a soon to be created surf television series even has some vocals on the end of it, a rare treat. This one also has several different cover variations, in that the name of the EP is spray painted (appears to be done by hand) in several different colours. I think these guys are just trying to keep the record collectors on their toes. Just think in 20 years or so these records will be worth a fortune - if you've got the right colour cover. Something to think about, but the real reason to get these records is because of the cool music that's between the grooves. Stay tuned for more reports on those Shadowy Men From A Shadowy Planet - coming at you real soon!