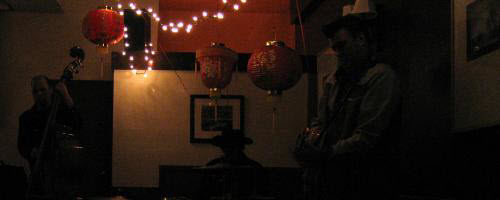 A side project to Atomic 7, Ancient Chinese Secret is an instrumental trio that I heard described as doing instrumental covers of old country songs, music by guys like Connie Smith, Lefty Frizzell, Charlie Rich, Robert Mitchum, and so on. However, it sounds like their current sets are more diverse than that. There's a fairly recent set list on the Etc. page as an example, and you can see some live video on the Videos page. See The Written Word for more information.
Ancient Chinese Secret are:
Brian Connelly - guitar
Rob Clarke - bass
Mark Duff - drums
Wanna go see Ancient Chinese Secret live? Currently, the band plays every Thursday at The Cadillac Lounge in Toronto. Thanks to David for the tip!