Coming Into The Light With:
Shadowy Men on a Shadowy Planet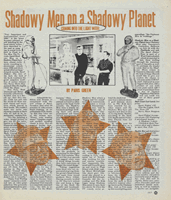 "Very Important and Instrumental…since 1985," is the latest dynamic attempt at self-labelling by the band which critics have described in the past as ranging in sound from Surf to Punk to Tex-Mex. The Toronto-based Shadowy Men on a Shadowy Planet have been, almost exclusively, recording instrumental sounds new 1985 and their newest effort on Cargo/Jetpac records, Sport Fishin' - The Lure Of The Bait, The Luck Of The Hook, continues the great unspoken tradition of earlier releases like Savvy Show Stoppers and Dim The Lights, Chill The Ham.
Don Pyle, Reid Diamond and Brian Connelly collectively decided, close to a decade ago, that they simply could not put into the words all those musical visions and narratives which danced in their heads. "We couldn't make any lyrics into rhyming couplets, so that's why we had to be instrumental," explains Pyle.
"It's like painting a wider, bright picture to give you all the information in on sentence," Diamond adds. A case in point, or several for that matter, can be heard on Sport Fishin'. "Off Our Back, Conrad Black" is a little ditty inspired by the band's failed experience in negotiating interest relief with The Bay department store chain. Early on in their career, the shadowy ones could not repay the high interest which accumulated on their purchase of supplies desperately needed for an upcoming tour. Conrad Black, who owned the retail chain at the time, rejected a request by the band to pay off their debt by playing in Bay store lobbies. "Conrad Black was an entrepreneur…" improvises Diamond, "just doesn't cut it lyrically."
"Honey, Your Wasting Ammo" recounts a weekend tale of video-game seduction. The generally unimpressed shadowy girlfriends broke with technophobic tradition and became so enraptured with the new release of Space Invaders, that after 10 minutes of video screen brain-washing, as an enthusiastic Pyle claims, "in this tiny voice one of the women says. 'Honey, your wasting ammo'." Laughter erupts, and another wordless classic is born. Not all musical births, however, reach the of full studio-recorded maturity. "Amish Father," a conceptual piece in which band continually beat each other up, has yot to be released.
Tempered with their subtle-as-a-hand-grenade sense of humour is a satirical side to the Shadowy Men. Being an avid fly-fisher (not the bird) I was impressed with the title and 50's style cover-art of Sport Fishin'. The band contends however, that fishing is not a priority for any of them. In fact, Pyle described sport fishing as "pretty gross." So why the obvious reference to Sir Izaak Walton's claim to literary fame and B.C.'s main tourist attraction? Pyle responds in a completely unamused voice, "the title is an analogy for the Music business." Okay.
This remnant of punk attitude is found in other aspects of the band. Until recently, the Shadowy Men were a totally antonomous package: booking their own shows, promotional and financial self-management, repairing their own cars and even sewing the buttons on their pants, the band symbolized improvisation and self-reliance. Diamond comments. "with agents or managers they want to make money, and as soon as you're being managed by somebody you become a product." Still maintaining considerable autonomy through thou own Jetpac Music, Cargo Records now manufactures the discs and MCA distributes the products. In accounting for this slight shift, Pyle explains, "they act like your parents and suggest other ways of doing things because they have experience at floggin' the round things."
Taking suggestions from those who are experienced at giving them, the group's latest release had input from record producer Steve Albini. Having recently worked on PJ Harvey's newest disc and being a huge fan of the band, the prolific and inexhaustible producer helped the Shadowy Men attain a "bigger and live sound" from their instruments. "Steve makes a record sound 3-dimensional," Diamond says, "and he teases things out of groups and people." Conveying his view of the recording experience, Pyle speaks of Albini. "he gets the naughty with the nice."
Apart from their recordings and little-known but highly addictive board game known as "Schlagers!" (now a prized collector's item), Shadowy Men on a Shadowy Planet have been creeping into the unsuspecting minds of millions of television viewers each week as the house band for The Kids In The Hall comedy series. The symbiotic relationship, according to Pyle, originated out of "friendship, working for free and similar sensibilities." Apparently, Diamond and Connelly grew up and went to High School with Kids'-regular Bruce McCullough (the short guy). Diamond also played in a band with McCullough, Connelly did the recording, and The Kids began using Shadowy Men music to open their live shows. So when the TV comedy series pi- toted the shadowed ones were a natural choice. A good business choice too, as The Kids have been renewed for another season and the Shadowy Men have just signed a new deal to stay on for big bucks. Resides, according to the band, G.E. Smith and his Primetime Players wore not available.
So what's next for the Shadowy Men on a Shadowy Planet? Judging by their past intinerary, they will be kept quite busy. Having recently returned from is auccessful mini-tour of England (London, actually) where they also completed some recordings for the "John Peel Sessions," the Shadowy Men are recording sone new songs for The Kids In The Hall. With all this musical activity one has to wonder where the members get all their energy. Yes, I know, other bands record new music and go on tour, once in a while musicians even have their songs picked for movies or television, but, perhaps, the the thing which sets the Shadowy Men on a Shadowy Planet apart from the pack is their collective musical alter-ego known as the Chateauy Men. And, as Pyle sums up this moonlighting sonic appendage, "the Chateauy Men do weddings."
Shadowy Men on a Shadowy Planet (sans Chateauy Men) play Vancouver's Commodore Ballroom on July 24 with the Fastbacks and cub. The Sport Fishin' Tour is part of a West Coast schedule which is expocted to take them trolling through the American part of Cascadia as well. To celebrate the trophy catch that is the Shadowy Men's return to Vancouver, Discorder with the help of Cargo Records would like to give you readers the chance to win some primo S.M.S.P. stuff. Just send us your biggest fish story, OR a picture of you with your prize catch, OR 2 proof of purchases from a box of Captain Highliner's Fish Sticks and you could win one of throw grand prizes:
East Coast Cod Catch (1st prize)
Sport Fishin' Accessories

promo CD (featuring 2 unreleased tracks)

A Shadowy t-shirt
2 tickets to their Vancouver show and a chance to meet Don Pyle
Tackle Box-set (2nd prize)
Live Bait (3rd prize)
Entrants must NOT be of legal age (you could sell the tickets to the show for all we care) or have a CD player (sorry, no cassettes). Entries must be clearly marked with a return address and day phone number. All entries received by noon of Wednesday, July 21st. will be eligible. Enter once, enter often. Discorder staff and immediate family members, as well as residents of Quebec are ineligible.