SHADOWY MEN ON A SHADOWY PLANET
As told by that man of mystery and suspenders … Trev Faull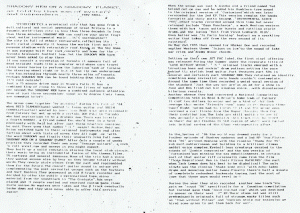 TORONTO, a provincial city that has gone from a dull cultural and social appendage of Great Britain to a dynamic world-class city in less than three decades. In less than three minutes, SHADOWY MEN can confirm your worst fears about guitar instrumental music … it's unstoppable!!
The city is full of ethnic restaurants, reflecting its multi-racial community. It houses the world's first multi-purpose stadium with retractable roof. Known as Skydome, it was purpose built for rock concerts and home for the Toronto Argonauts football team. Yet the SHADOWY MEN have never been asked to play there.
If you consult a street plan of Toronto it appears full of dead straight roads, like a computer grid where cars travel along never having to perform the laborious task of turning the steering wheel right or left. It has its own underground city too, extending through nearly three miles of tunnels. Perhaps SHADOWY MEN can be found busking down there when it's cold outside?
The group came together "by accident" during the fall of '84 when REID DIAMOND [bass] wanted to learn guitar and BRIAN CONNELLY [guitar] wanted to learn bass. Both guys were originally from Calgary but met up with a certain DON PYLE in Toronto who had aspirations to be a drummer man. There was briefly a fourth member, a friend named Ken, who'd been in a band previously with Reid but after three practice sessions he quit. There goes that number '3' again! Anyhow, Reid and Brian switched back to their original instruments and after farting around with lists of names they all came up with the word SHADOWY and finally their unusually long name SHADOWY MEN ON A SHADOWY PLANET. After only a couple of weeks practice they recorded their own song "Teenage Guitars", a rock and roll vocal, raw and garagy as you might expect.
They built up a solid reputation playing the local club circuit, their music being an instrumental fusion of 60s themes, films, TV, cartoons and general zanyness. None of the trio had a voice they wanted anyone else to hear so they became totally without words. They openly stole pieces from the past and reassembled them for the future. The overall guitar sound is unique yet complementing the post revivalist groups such as the Raybeats and Surf Raiders. They possessed an old 8-track recorder and decided to offer the public a personalized tape, using material from the soundtrack to "The Graduate". Ads were placed and 3 people received custom made items quite unique. No masters were taken and the 8 track eventually broke down any they were never able to offer this service again!
When the group was just 6 months old a friend named Tad helped out on sax and he added his Rumblers-type sound to the original version of "Customized" which was later re-recorded for the 2nd EP. This version remains the band's favorite and their motto became "INSTRUMENTAL SINCE 1985." Other tracks recorded around this time but never released include "Eggs Rancheros", a mock, Mexican western theme with hot tacos guitar bursts and rattling prairie drums, and the loping "Exit From Vince Lombardi High". Even better was "Is Parents Burning" featuring a sparkling guitar that takes off from the very second of its existence.
On May 2nd, 1985 they opened for Hüsker Dü and recorded another western theme "Injuns On Ice" to the sound of fake war cries and doomy minor chords.
Setting up their own JETPAC label, the first vinyl offering was released during the Summer under the corporate title of "LOVE WITHOUT WORDS". '3' original tracks emerged with a thrusting bass and rockin' drum pattern setting the pace behind the stylish lead guitar. Part Ventures, part 60s in general and certainly part SHADOWY MEN. They released an identity, something many revivalist-only bands couldn't contemplate. Around the same time they recorded a weird version of "Just The Way You Are" as an ad for a show in June and Don tried out his singing voice … with disasterous / hilarious results.
Another wheeze they had concerned a National Songwriting Competition held in Reid & Brian's hometown of Calgary. It cost ten dollars to enter and as a kind of childish revenge they wrote "Friendly Town" sung to the "Bonanza" theme tune! Eight judges had to listen to it and the group even received a certificate from the Mayor thanking them for their contribution. The lads are still waiting to see if they actually win? Incidentally, this track can be heard on their 2nd gig freebie EP, 500 copies of which were tucked into the Glass retrospective album.
In the spring of '86 the world was deemed ready for a further episode of Shadowy madness and a 2nd EP, "Wow Flutter Hiss '86" arrived. Opening with the rousing "Theme From TV"., sub surf, subterranean and building to a brilliant climax amidst voice samples. Eyeball-less creatures gyrated to the sounds of "Zombie Compromise" and the new version of "Customized" was missing the sax embellishments. I'm certain part of that guitar riff originally came from the firm "Those Magnificent Men In Their Flying Machines", the part where Jack Lemmon does his best to be diabolical!! The only slowie was the closing "Shake Some Evil" with echo-laden drums and menacing guitar twang. Finally, there's half a minute of completely redundant backwards taping, just the sort of jape that these guys would revel in!
During the year they also recorded another new track "You Spin Me Round '86" specifically for a Canadian compilation but instead gave them "Good Cop Bad Cop" which was destined to appear on their next 7" EP. Their stage set was predominantly originals full of strange, wacky titles such as "Town Without Pitney" and "Gypsies Stole Our Brains (So We Hired Some Spies To Get Them Back For Us)".